I spotted this Double wrap leather bracelet, tadelakt calfskin with a choice of silver or gold hardware. It costs a hefty $470.00 but it is so worth it if you can afford it! My mouth dropped to the floor when I came across it. I am so happy they made this. It's pure genius. I prefer the black band with the gold hardware.
I'm not sure how I feel about this Limited edition embroidered leather bracelet, gold plated Collier De Chien Bracelet. The original ones are of course amazing.
I was waiting for this to come out. They had these silver and palladium plated spikes on a limited edition twilly. I'm glad they brough out the leather bracelet version.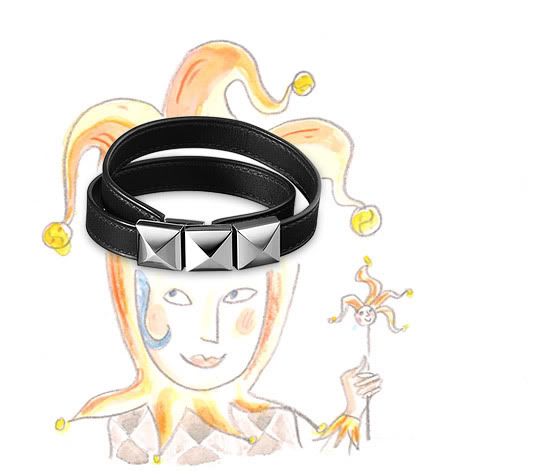 Hermes has brought out a lot of new styles! Check it out:
http://usa.hermes.com/webapp/wcs/stores/servlet/CategoryDisplay?storeId=10202&catalogId=10052&langId=-1&categoryId=80493&leftCategoryId=86746&topCategoryId=58004&parentCategoryId=53453